User access quick guide:
To access any application on this portal, first register your company:
To register your company:
Cut and paste this link into your browser:
Or click the "Register" link in the top right corner.
Result: the Register Company form will display.
Fill out the details in the form then click the 'Register Company' button.
The "Requested access for" section on the above form provides the list of 'Apps' that will help you in your day-to-day cooperation with Napier Port: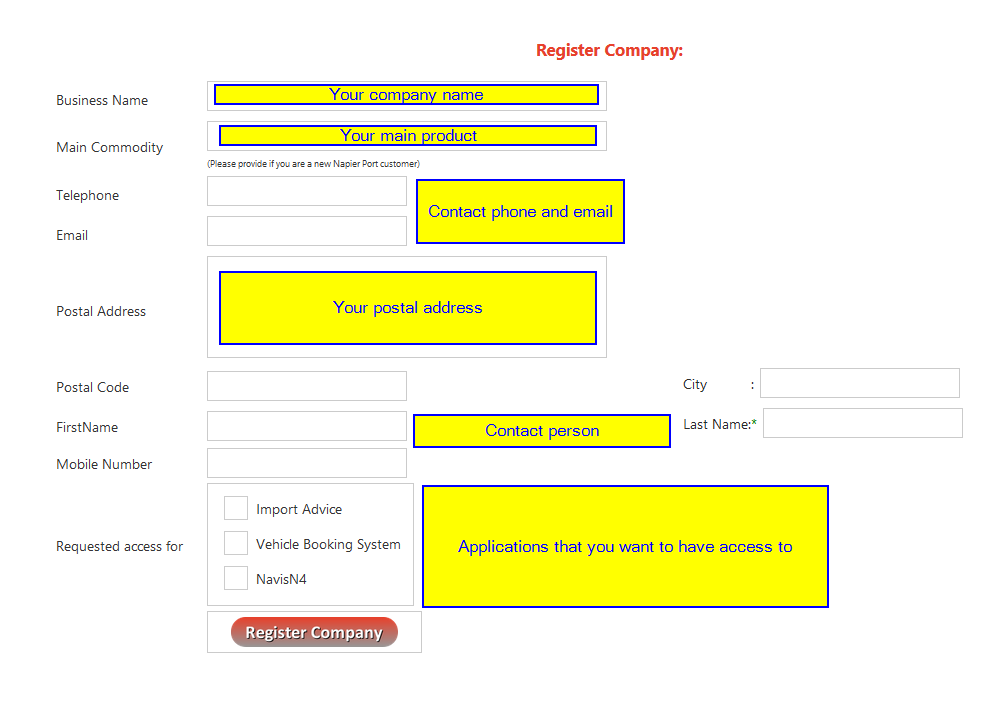 Import Advice: Allows trucking companies to request easy access for containers they intend to pick up on a given day or in a given group
Vehicle Booking System is an external application that allows trucking companies to book a time slot in which their trucks will be accessing Napier Port Container Terminal i.e. dropping export containers, picking up imports.
CAP (Customer Access Portal) Navis N4 is a Portal in which Shippers pre-advise their Full Export Containers, including Verified Gross Mass (VGM) weight of the cargo into Napier Port system
Your application will be processed by Port employees.
It will take approximately 1-3 business days to process and you will be informed by the email your provided in the form.
If successful you will be provided with a username and password as well as any additional information you will need (i.e. registering for VBS requires filling out another form on the 1Stop page).
Once logged in you can register additional users for your company.
Note: You can do it by clicking on the "Users Management" button.
If you'd want to change your password:
Please go to the login page
Click the "reset password" link – after providing your username, an email will be sent to your registered email address and provide a link allowing you to change the password.
After providing your credentials, you might see a safety pop-up asking you to mark certain parts of the picture (i.e. all squares containing vehicles) – this feature is protecting the page from automated attacks trying to guess the username and password using brute-force attacks.
If you have any questions, please contact our team at: vbsplanner@napierport.co.nz or for technical support please email ITTeam@napierport.co.nz